Opal Ruth (Hanson) Hoffland
February 18, 1925 - October 8, 2015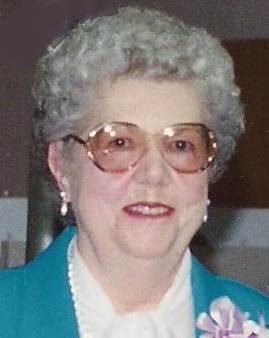 Opal Ruth (Hanson) Hoffland, 90, of Janesville died Thursday, October 8, 2015 at Our House in Janesville. Opal was born on February 18, 1925 in Vernon County, WI, the daughter of Lewis and Bertha (Hawkinson) Hanson. She grew up in Vernon County and married Burnan G. "Bert" Hoffland on March 4, 1944. They moved to Janesville in 1950 and Opal worked for a number of years at Borg Products in Janesville and Oak Manufacturing in Elkhorn. She was employed for 23 years at Norwood Mills in Janesville retiring in 1986 to care for her husband whose health was failing. He preceded her in death on November 16, 1995. Opal was a charter member of Trinity Free Lutheran Church in Janesville.
Opal Hoffland is survived by nephews, Thomas (Sandy) Hanson, Russell Hanson, Robert Hanson, Gary Hanson, a niece, Debra (Dave) Hanson and special friends, Sam and Bev Mylin. In addition to her husband and parents, she was preceded in death by three brothers, Orvin, Herman and Leonard and two sisters, Cora and Alice.
"Opal's family wishes to thank the staff of Our House, especially Tammy and Mandy and the staff of Heartland Hospice, especially Meghan and Debbie for the wonderful care that she received."
Funeral services will be at 10:30 a.m. Saturday, October 10, 2015 at Trinity Free Lutheran Church, 2727 Holiday Drive Janesville. Rev. Jon Benson will officiate. Burial will be in Milton Lawns Memorial Park. Visitation will be at the Church on Saturday morning from 9:30 to 10:30 a.m. The family is being assisted by Henke-Clarson Funeral Home.