Orris O. Bemis
January 1, 1914 - August 7, 2012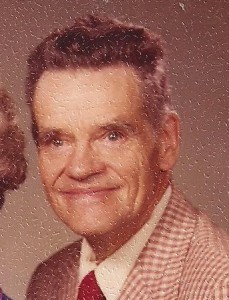 Orris O. Bemis, 98, of Janesville, WI passed away Tuesday, August, 7, 2012 at St. Mary's Janesville Hospital. Orris was born on January 1, 1914 in Chautauqua, NY, the son of Orris Wesley and Mary (More) Bemis. He served in the U. S. Army Signal Corps during world War II in the Philippines. He married Florence M. Jones in 1942. She preceded him in death in 1964. He married Jeanette Janson on February 14, 1965. Orris was formerly employed by Borg Corporation in Delavan and Janesville as an inspector for several years and later operated the printing shop at the Rock County Courthouse for 9 years. He also built numerous homes on Sunset Drive in Janesville prior to moving to Britt Road where he ran Orrie's Orchard. Orris and Jeanette have resided at Cedar Crest for the past two years. He was a long-time member of First Baptist Church.
Surviving are his wife, Jeanette Bemis, 1 son, Dennis Lee (Carmelita) Bemis of Rockford, IL and 1 granddaughter, Penny Lyn Bemis of Rockford. He was preceded in death by his first wife, Florence, his parents, his stepfather, Halvard Nelson, 1 brother and 1 sister.
Visitation will be from 9:30 to 10:30 a.m. Saturday, August 11, 2012 at First Baptist Church, 3414 Woodhall Drive, Janesville immediately followed by funeral services at 10:30 a.m. Rev. Jerry Amstutz will officiate. Burial will be in Milton Lawns Memorial Park. The family is being assisted by Henke-Clarson Funeral Home. www.henkeclarson.com.