Orville G. Stelse
December 6, 1917 - April 30, 2014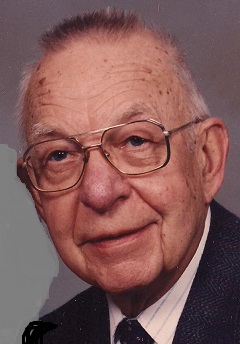 Orville G. Stelse, 96, of Janesville passed away Wednesday, April 30, 2014 at St. Elizabeth Nursing Home in Janesville. Orville was born in Watertown, WI on December 6, 1917, the only child of Gustave and Ida (Maahs) Stelse. He graduated from Fort Atkinson High School and served in the U. S. Army Air Corps during World War II. On June 14, 1947, Orville married Evelyn Cowan in Footville. They resided in Fort Atkinson from 1947 until 1983 where Orville was employed in the engineering department at Jamesway Manufacturing Company. They moved to Janesville in 1983 and he became a member of Roxbury Church of Christ.
Orville Stelse is survived by his son, Mark Stelse of Janesville, his daughter, Mary (Rodney) Dahl of Chesterland, Ohio, his grandson, Eric Dahl of Omaha, Nebraska, brother-in-law and sister-in-law, Howard and Patricia Cowan of Delta, Colorado, sister-in-law, Kathleen Cowan of Janesville. He was preceded in death by his wife, Evelyn Stelse on March 27, 2009. His parents also preceded him in death.
"Orville's family wishes to extend a sincere thank you to Cedar Crest and St. Elizabeth Nursing Home for the wonderful care he received."
Funeral services will be at 4 p.m. Sunday, May 4, 2014 at Henke-Clarson Funeral Home, 1010 N. Wright Rd., Janesville with Pastor Jon Grice officiating. Burial will be on Monday at Milton Lawns Memorial Park. Visitation will be from 2 to 4 p.m. Sunday at Henke-Clarson Funeral Home.