Paul O. Rowland
November 27,1930 - May 31, 2017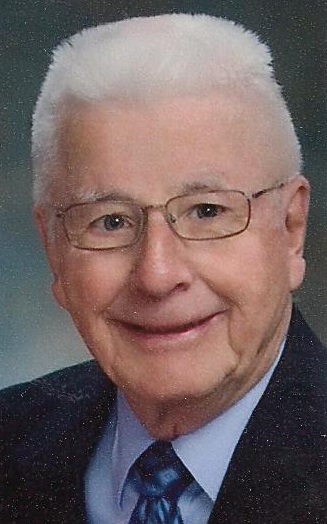 Paul O. Rowland, age 86, of Janesville, WI died on Wednesday, May 31, 2017 at his home surrounded by his family. Paul was born on November 27, 1930, in Kenneth, MN to Rupert M. Rowland and Hazel Arvig Rowland. He grew up on the family farm and graduated from the Edgerton, MN High School. In 1952 he was drafted into the Army and served two years, part of that time in Korea. He was thankful for his faithful Army friends who encouraged him during those years. After he was honorably discharged from the Army, he began in the management-training program with F.W. Woolworth Company.
Paul married Betty Anderson on March 19, 1960, and they had three children: Karen (Steve) Pedigo, Keith (Jane) Rowland, and Linda (Duane) Debelak.
During his Woolworth training and management years he was transferred many times to stores in Wisconsin, Minnesota and Iowa. In 1971, they transferred to Watertown, SD, where they had many privileges and raised their family. Paul retired from the F.W. Woolworth Company in 1993. In 2005, Paul and Betty relocated to Janesville, WI to be near their daughters.
During his retirement years they enjoyed many trips to visit friends and relatives with their travel trailer. They also took many trips to Mexico and to the Far East.
Surviving are his wife, Betty E Rowland; children Karen (Steve) Pedigo of Rockford, IL, Keith (Jane) Rowland of Murrieta, CA, and Linda (Duane) Debelak of Sussex, WI; nine grandchildren: Sarah (Trenton) Smith, Nathan Pedigo, Laura (John) McMaine, Michael, Jimmy, & Connor Rowland, and Rayna, Trevor, and Mira Debelak; brother-in-law Alan Anderson. He was preceded in death by his parents; his sister Shirley Berglund; and granddaughter, Amara Debelak.
The most important thing in life to Paul was his relationship with God.
The family appreciates the care of the family and friends, and Agrace Hospice during his sudden decline of health.
Visitation will be held on Sunday, June 4, 2017 from 5 to 8 p.m. at Henke-Clarson Funeral Home, 1010 North Wright Road, Janesville and on Monday, June 5, 2017 from 9 to 10 a. m. at Compass Church, 4224 Whilden Court, Janesville with services to follow at Compass Church at 10 a.m. Monday. Graveside services and burial will be at 2 p.m. Monday, June 5th at Wisconsin Memorial Park, Brookfield, WI. The family is being assisted by Henke-Clarson Funeral Home (608-741-1713).