Paul R. Leger
December 21, 1933 - February 11, 2017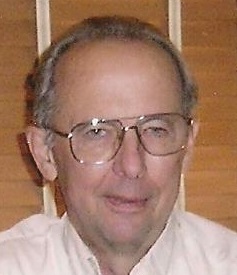 Paul R. Leger, passed away peacefully, surrounded by his family on Saturday, February11, 2017 at Rock Haven Nursing Home in Janesville, WI. He died after a long, courageous battle with Parkinson's Disease. Paul was born December 21, 1933 in Ottawa, IL, to James and Marian Leger. He lived in Ottawa, IL, Racine, WI and retired to Janesville, WI. He married his high school sweetheart, Lavina E. Osman in 1954. Together they had three children. Paul was a Maintenance Manager at Ryan Road Truck Stop, Waste Management and retired from Penske Truck Leasing in 1995, all in Milwaukee, WI. Paul loved spending time with his grandchildren, gardening, golfing, playing cards and
woodworking. In his retirement years he worked for Wisconsin Wagon Company making beautiful wooden wagons. During his years spent at The Heights Assisted Living Apartments in Evansville, WI ,he was well known for being the euchre champ. He is survived by and will be sadly missed by his wife Lavina and his children Vicki (David) Hayes, Joellyn (John) Merz, Steven (Michelle) Leger. He is the proud grandfather of Todd and Carley Hayes and JP and Nathaniel Merz. Also, sisters Ruth Paul, Carol and many nieces and nephews. Paul was preceded in death by his parents and brother Russell. A celebration of life service will be held at Good Shepherd Lutheran Church, Janesville, WI on
Thursday, February 23rd at 12:30 p.m. Burial will be at Milton Lawns Memorial Park and Mausoleum in Janesville, WI. Relatives and friends are welcome to attend a visitation from 11:00 am until the time of the service. Those who would like to make a donation in Paul's name may wish to consider The Michael J.
Fox Foundation for Parkinson's Research.
The family would like to extend our gratitude to The Heights Assisted Living Apartments, Evansville, WI, Rock Haven Nursing Home and Agrace Hospice for their wonderful care.
The Henke-Clarson Funeral Home in Janesville is assisting the family.