Pearl F. (Adams) Stradinger
September 29, 1914 - October 13, 2011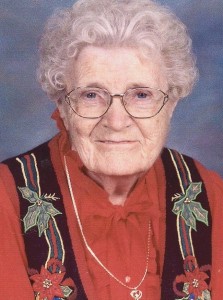 Pearl F. (Adams) Stradinger, 97, a former Whitewater, Janesville and Johnstown Center resident died Thursday, October 13, 2011 at Alden Meadow Health Care Center in Clinton. She was born on September 29, 1914 in Plainfield, Waushara County, WI, the daughter of George W. Adams and Ella C. (Blodgett) Adams. She married Albert C. Stradinger on June 24, 1933 in Wautoma, WI. They resided in Whitewater until 1959 when they moved to Janesville. In 1971, they moved to Johnstown Center where Pearl continued to resided following Albert's death on October 13, 1993 until she went to reside at Alden Meadow Park Health Care Center in 2008. She was a 50 year member of Peace Lutheran Church, Janesville. Pearl enjoyed knitting, crocheting and attending family get-togethers. She was pleased to have attended the Adams family reunions every year from 1961 until 2010.
Surviving are one daughter, Donna Rae (Donald) Scharine of Whitewater, two grandchildren, Derrick (Lynette) Scharine of Whitewater, Denise Scharine of Whitewater, two great-grandchildren, Cameron and Natalie Scharine both of Whitewater, nieces, nephews, great-nieces and great-nephews. She was preceded in death by her husband, of 60 years, Albert, one son, Robert, five brothers , one sister as well as her parents.
"A SPECIAL THANK YOU TO THE STAFF OF ALDEN MEADOW PARK"
Visitation will be from 10 to 11 a.m. Monday, October 17, 2011 at Peace Lutheran Church, 1550 S. Osborne Avenue, Janesville. Funeral services will be at 11 a.m. Monday at Peace Lutheran Church with Pastor Richard W. Lehmann officiating. Burial will be in Hillside Cemetery, Whitewater. Memorials may be made to Peace Lutheran Church. Mrs. Stradinger's family is being assisted by Henke-Clarson Funeral Home. www.henkeclarson.com.