Phyllis B. Seymour
December 29, 1920 - January 16, 2012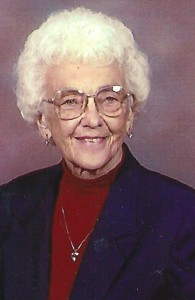 Phyllis Bernice Seymour entered eternal life on January 16, 2012 at her home with her family by her side. Phyllis was born on December 29, 1920 on the family farm in Ulen, Minnesota, to Elmer and Pearle Henrickson. She began her education in a one-room country school where she was the only student in her grade. Following graduation from Moorhead State University, she taught school in Hitterdal, Minnesota. During World War II, she was a commissioned officer in the Signal Corps serving as a cryptographer in the Women's Army Corps from 1942 to 1945.
Phyllis was united in marriage to Milford (Bob) Seymour on September 12, 1945 in Madelia, Minnesota. Throughout her husband's military career, she was always a source of strong support. She was the charter President of the Health Services Command Officers' Wives Club and was an active volunteer in many service organizations wherever they were stationed. Upon Bob's retirement from the military, they moved to Wisconsin to be near family. In Beloit, she worked for
H & R Block and was a member of Calvary Lutheran Church. They moved to Janesville where she became a member of First Lutheran Church. She had many talents and hobbies, including golfing, dancing, baking, and gardening. She was also an accomplished seamstress, creating many fashions for her children and grandchildren. She had a love of travel and had visited all fifty states and most of Europe. They also enjoyed wintering in Harlingen, TX.
Phyllis is survived by her husband Bob Seymour; her children CarolAnn (Kurt) Van Galder, Connie (Gene) Van Galder, and Mark (Barb) Seymour; her grandchildren Christina (Jay) Jensen, Kyle (Heather) Van Galder, Tami (Hamang) Patel, Brian Christensen, Jon (Amber) Van Galder, Stacy (Tim) Duffy, Brad (Amy) Christensen, and Kim (Mitch) Johnson; and twelve great-grandchildren. She is also survived by her sister Jewell Wenner. She was preceded in death by her parents, a brother Elwood, and a sister Norma.
Above all, Phyllis will be remembered as a loving wife, mother, grandmother, great-grandmother and sister.
A Memorial Celebration of her life will be held on Saturday, January 21 at 11:00am at the First Lutheran Church, Janesville with Pastor Naomi Garber and Reverend Gene Van Galder officiating. A visitation will be held from 10:00am until the time of service. The family extends its heartfelt appreciation to the caregivers at Huntington Place, Home Instead, and Beloit Regional Hospice for all the tender care they provided Phyllis and her family. In lieu of flowers, it is suggested that memorials be given to the First Lutheran Church, Beloit Regional Hospice, or the Alzheimer's Association. Henke- Clarson Funeral Home, 1010 N. Wright Rd, Janesville is assisting the family.