Ralph E. Cooper
March 16, 1923 - November 16, 2013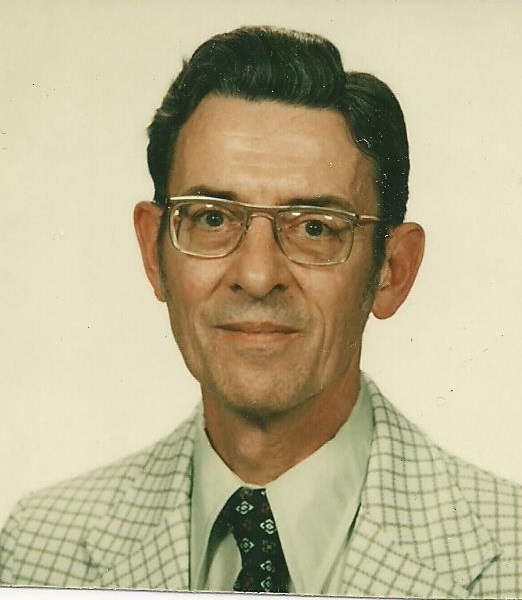 Ralph E. Cooper, 90, of Janesville, WI passed away at his home on Saturday, November 16, 2013. Ralph was born March 16, 1923 in West Allis, WI, the son of G.J.(Joe) and Elizabeth L. (Hauser) Cooper. He graduated from West Allis High School in 1941. He started a 4 year machinist apprenticeship at Kearney and Trecker in West Allis in 1941 which was interrupted by his entrance into the U. S. Army on May 29, 1944. He served in France and Germany and was discharged May 26, 1946. He then finished his apprenticeship later in 1946 and entered the University of Wisconsin, West Allis later transferring to the University of Wisconsin – Madison from which he graduated in 1951. He started working as a draftsman with Gisholt Machine Company and when they closed in 1971, he transferred to Gilman Engineering in Janesville from which he retired as a project engineer in 1985. Ralph married Phyllis Gagneir, the mother of his 4 children and later married the love of his life, Betty L. Hull in 1975. Ralph was active in Boy Scouting for 35 years both as a youth and as an adult. He was a member of A.A.R.P. and a life member of V.F.W. Post # 1621 in Janesville. Ralph was a member of the Masonic Order since 1944 when he joined in West Allis and was currently a Master Mason at Doric Lodge #291 in Madison. Ralph loved to bowl and enjoyed camping and traveling, especially to Alaska and Mexico. He was a member of Asbury United Methodist Church.
Surviving are his wife, Betty, 4 children, Lawrence (Chris) Cooper, Kathryn McCurdy, Mark (Stephanie) Cooper and Brett Cooper. He is further survived by 3 step-children, Barbara Hull, Philip (Annette) Hull and Sue (Rob) Bent as well as 15 grandchildren and 21 great-grandchildren. In addition to his parents, Ralph was preceded in death by his brother, Neal Cooper.
Funeral services are Thursday, November 21, 2013 at 11 a.m. at Asbury United Methodist Church, 1810 Kellogg Ave., Janesville. Pastor Wendee Nitz will officiate. Burial with military rites by Kienow-Hilt V.F.W. Post # 1621 will be at Milton Lawns Memorial Park. Visitation hours are 4 to 6 p.m. Wednesday, Nov. 20th at Henke-Clarson Funeral Home, 1010 N. Wright Rd., Janesville and at the church on Thursday from 10 to 11 a.m. In lieu of flowers memorials may be made to the charity of the donor's choice in Ralph's name.