Rev. Ardis Tiedt Corey
December 10. 1922 - July 14, 2015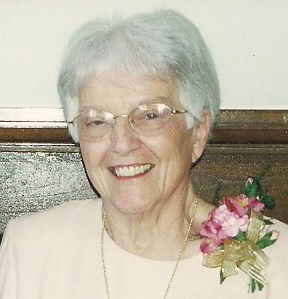 Rev. Ardis Tiedt Corey, 92 , of Janesville died Tuesday July 14, 2015 at St. Elizabeth Nursing Home. Ardis was born in Mauston, Wi on December 10, 1922, the daughter of Vern and LuLu (Cary) Tiedt. She graduated from Janesville High School. Ardis graduated from the Baptist Missionary Training School of Chicago and attended the University of Chicago Theological Seminary. She was director of Education at Austin Baptist Church in Chicago. She also served as Director of Christian Education at First Congregational United Church of Christ in Janesville. Ardis married Kendall M. Corey on April 14, 1950 in Janesville. She raised her family while being a Brownie leader, and Cub Scout den mother while also active in her church.
She felt a call to the ministry and became ordained at the First Baptist Church of Janesville in 1978. She then served as a supply minister for the American Baptist, Congregational, Disciples of Christ, Methodist and Presbyterian Churches. Ardis was one of the first women to be president of the Wisconsin Baptist State convention and one of the first women ministers serving in Janesville. She was on the Board of Northern Baptist Seminary in Chicago. Ardis was an interim minister several times at First Christian Church in Janesville. This became her home church where she and her husband are active members.
Rev. Corey is survived by her husband of 65 years Kendall Corey, two children, Bob F. (JoAnne) Corey of Janesville, Sherry (Dave) Schaller of Edgerton, three grandsons, Brent Corey, Nick and Dustin Schaller, six great-grandchildren, and several nieces and nephews. Ardis was predeceased by a son, Jon.
Services will be 6:00 p.m. Sunday July 19, 2015 at First Christian Church, 1909 Highland Avenue, Janesville. Pastor Neil Deupree will officiate. Private interment will be in Milton Lawns Memorial Park. A visitation will be held at First Christian Church on Sunday from 4:30-until the time of the service with supper to follow, everyone invited. Memorials may be made to First Christian Church or St. Elizabeth Nursing Home. The Corey family is being assisted by Henke-Clarson Funeral Home.
The family would like to especially extend their gratitude and thanks to the entire staff at St. Elizabeth Nursing Home in Janesville.