Rev. Mark P. Lindner
March 27, 1952 - June 27, 2012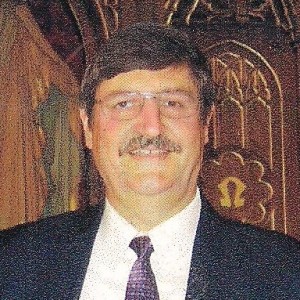 Rev. Mark Paul Lindner was born on March 27, 1952 in Milwaukee, WI to Elroy and Eugenia Lindner. He was baptized a child of God on April 20, 1952 at St. Martini Evangelical Lutheran Church in Milwaukee, WI. He was shepherded home by his Savior to heaven on June 27, 2012.
Pastor Lindner grew up in Franklin, WI. He attended high school at Northwestern Preparatory School and college at Northwestern College in Watertown, WI and graduated from Wisconsin Lutheran Seminary in 1980. During his high school years he met his high school sweetheart, Barbara Korth, whom he married on April 6, 1974. The Lord blessed them with four children.
During his ministry, Pastor Lindner served various congregations in the Wisconsin Evangelical Lutheran Synod: St. Jacobi in Glenham, SD; Zion in Mobridge, SD; St. Stephen's in Beaver Dam, WI; and St. Matthew's in Janesville, WI. Along with those congregations, he served his synod and district in various positions.
Pastor Lindner now enjoys the glory of heaven with many whom he served during his ministry along with family and friends who have fallen asleep in their Savior. He was preceded in death by his mother, Eugenia; in-laws, Dorothy and Gilbert Korth; and niece, Sarah Migacz. He is survived by his wife, Barbara; father, Elroy; sister Barbara (& husband, John) Migacz; children Kathryn (& Rev. Steve) Neyhart in North Platte, NE, Rev. Daniel (& Heidi) Lindner in Minneapolis, MN, Abigail (& fiance Jeremy Drallos) Lindner in Ventura, CA, and David Lindner in Seattle, WA; grandchildren Madelyn, Aaron, and Emma Neyhart; and many other family members.
The visitation will take place on Sunday, July 1 from 1:00-4:00 p.m. at the Henke-Clarson Funeral Home in Janesville (1010 N. Wright Rd.) and on Monday, July 2 beginning at 9:30 a.m. at St. Matthew's Evangelical Lutheran Church (709 Milton Ave.) in Janesville, WI. The funeral service will begin at 11:00 a.m. at St. Matthew's.
The family would like to thank the Clinton Clinic and the UW Oncology team for all of their help during the past several months.
We take comfort in the words that our gracious Lord God gives us in II Timothy 4:7-8, "I have fought the good fight, I have finished the race, I have kept the faith. Now there is in store for me the crown of righteousness, which the Lord, the righteous Judge, will award to me on that day – and not only to me, but also to all who have longed for his appearing."
In lieu of flowers the family asks that memorials be directed to WELS Home & World Missions and Luther Preparatory School.