Richard G. Olin
March 10, 1935 - September 6, 2018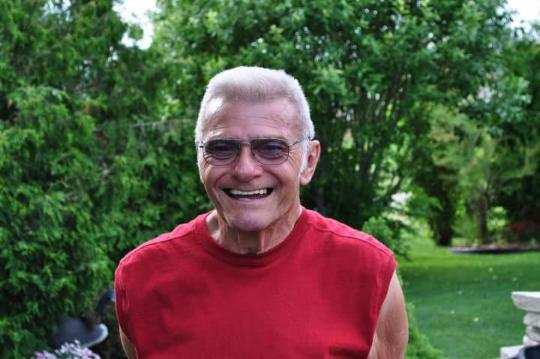 Richard G. Olin, age 83, of Janesville passed away September 6, 2018 at Rock Haven Nursing Home. He was born on March 10, 1935 in Janesville, the son of Dexter and Lucille (Proper) Olin. He married Hildred A. Barriage on June 27, 1953. She preceded him in death on December 13, 2007. Dick worked for Safety Kleen, UPS and set up a paint crew for Marklein Builders. After his father retired, he took over Olin Paints which he owned and operated until he retired in 2005. Dick was a long-time member of Kiwanis and Golden K Kiwanis where he enjoyed being a part of all their community functions and being with his fellow Kiwanian's. Dick was always an optimist. He saw the good in everyone. He loved spending time with his wife, working on fixing up properties, working in the yard, feeding the birds, attending all the grandchildren's activities and coaching 4-H softball.
Dick is survived by his sister, Pauline Frank, in-laws Mary Overton, Helen and Bill Church, his children, Becky Rowe, Cindy Hugunin, Teri (Denny) Olin-Dunn, Joe (Joanne) Olin, Dan (Cori Olson) Olin, his grandchildren, Andy (Kristeen) Jones, Desiree Jones, Melissa Hugunin, Steve (Nicole) Hugunin, Jennifer (Rick) Wilbur, Tony Sorensen, Ben (Chelsea) Olin, Jenna Olin, Nick (Abigail) Olin, Brennan Olin, Carly Olin and 9 great-grandchildren. In addition to his wife, he was preceded in death by his parents.
Funeral services will be held at 1 p.m. Monday, September 10, 2018 at Henke-Clarson Funeral Home, 1010 N. Wright Road, Janesville. Chaplain Mark Maxted of Beloit Regional Hospice will officiate. Entombment will follow in Milton Lawns Memorial Park Mausoleum. Visitation will be Sunday, September 9th from 2 to 4 p.m. and on Monday from Noon until the time of services at Henke-Clarson Funeral Home.
The family would like to extend a special thank you to Dick and Hildy's life-long friend Jerry Wells. Dad always looked forward to and enjoyed his visits. Also, to Audra Hoops for her devoted help and kindness as well as to the professional and very caring staff at Rock Haven and Beloit Regional Hospice for their support and care of Dad and our family.