Robert L. Wincapaw
July 14, 1923 - March 7, 2016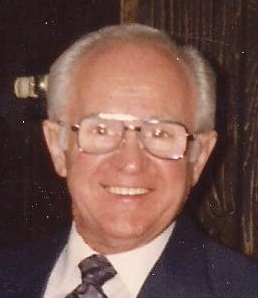 Robert L. " Bob" Wincapaw, 92, of Beloit went to be with his Lord and Savior on Monday, March 7, 2016 from his home with his "girls" by his side. Robert was born in Janesville on July 14, 1923, the son of Roy and Johanna (Redenius) Wincapaw. He graduated from South Beloit High School in 1941. He served in the U. S. Army from 1943 to 1946. Robert married Hazel Madsen on September 20, 1947. He was employed as a tool and die maker by Beloit Corporation before becoming well known and respected in the community as a realtor and appraiser working for Bort's Real Estate for many years. He was a former member of the Amvets, and enjoyed square dancing, the Roller Skating Club, traveling south in the winter and traveling to Europe. He took up golf in his late 70's, a game he loved and did exceptionally well at. Another highlight of his life was going on the Vets Roll in 2010.
Surviving are his two girls, whom he loved unconditionally, Judith Comeau Madsen of Beloit, Jill Nordeng of Chatfield, MN, his brother, Melvin (Romaine) Wincapaw of Madison and nieces and nephews. He was preceded in death by his wife, Hazel Wincapaw, his parents, his sister, Shirley Fries, his infant granddaughter, Janie Lynn Comeau, his son-in-law, John Nordeng, his brother-in-law, Karl Fries, his niece, Sandra Fries Bess and his special companion, Fay Locke.
Bob's family wishes to express their sincere appreciation to Home Health Care and Nurse Linda as well as Beloit Regional Hospice. Special thanks to Dusty and Marilyn for the exceptional care he received during his illness.
Funeral services are at 12 Noon Thursday, March 10, 2016 at Central Christian Church, 2460 Milwaukee Road, Beloit. Rev. Joel Otto will officiate. Burial with military graveside rites will be in Eastlawn Cemetery. Visitation will be from 11 a.m. until 12 Noon Thursday at Central Christian Church. Memorials may be made to Beloit Regional Hospice. The family is being assisted by Henke-Clarson Funeral Home, Janesville.