Robert Lester Naatz
July 25, 1916 - March 6, 2015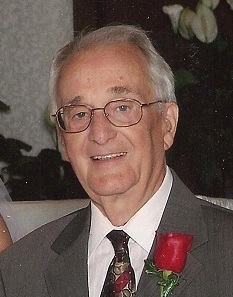 Robert Lester Naatz, 98, of Janesville died Friday, March 6, 2015 at Agrace Center for Hospice and Palliative Care surrounded by his family. Robert was born in Janesville on July 25, 1916, the son of Fred and Grace (Bissel) Naatz. He graduated from Janesville High School and entered the U. S. Army on June 9, 1941. He served for 28 months overseas in the European Theater during World War II in the 28th infantry division and on his ETO ribbon he has five battle stars from Normandy, Northern France, Rhineland, Ardennes and Central Europe. Robert married Mary Ann Schneider on November 29, 1947. A life-long resident of Janesville, he was employed by Parker Pen Company for 45 years. He was a member of St. John Vianney Roman Catholic Church and Kienow-Hilt V.F.W. Post # 1621. Robert enjoyed gardening, fishing and golfing but above all else he loved spending time with his family and his cat, Parker.
Robert is survived by three children, Sue (Dave) Dahl of Janesville, Robert F. (Lynda Richter) Naatz of Janesville, Fred (Joanne Beraldi) Naatz of Platteville, WI, seven grandchildren, Jeremy (Jessica) Dahl, Jon (Tanya) Dahl, Charlie (Carrie) Dahl, Hannah Naatz, Sarah Naatz, David Naatz, Maria Naatz, six great-grandchildren, two sisters, Marian Schenkl, Jean Michael and one brother, Fred Naatz. He was preceded in death by his wife, Mary Ann Naatz on March 21, 2006. His parents, twin sisters Charlotte Westrick and Shirley Gray and his brother, Kenneth Naatz also predeceased him.
"Robert's family wishes to thank Marilyn Tuttle and Chrissy Klem for the wonderful care they gave to him so he could stay in his home. Also, a special thanks to Steve Latka and Gail Patten for their regular visits which he enjoyed very much thru the years."
A Mass of Christian Burial will be at 11 a.m. Tuesday, March 10, 2015 at St. John Vianney Roman Catholic Church, Monsignor Donn Heiar presiding. Visitation will be at the Church from 10 to 11 a.m. Tuesday. Military rites will be performed at the Church following the mass by Kienow-Hilt V.F.W. Post # 1621. Burial will be in Mt. Olivet Cemetery. The Naatz family is being assisted by Henke-Clarson Funeral Home.