Robert "Bob" Louis Huschka
September 1917 - October 17, 2015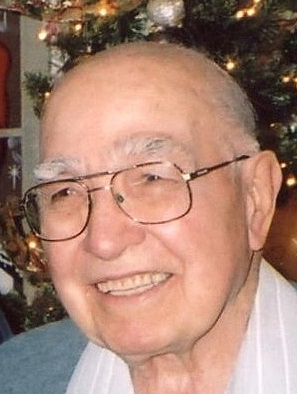 Robert "Bob" Louis Huschka, 98,of Janesville died Saturday October 17, 2015 at Cedar Crest in Janesville. He was born in September of 1917, the son of Louis and Mina (Bumgarner) Huschka, and grew up on their farm east of Janesville. He graduated from Janesville High School in 1936 and played in the 121st Field Artillery Band.
On June 8, 1940, he married Doris May Moore in Dubuque IA. He was a member of the Wisconsin National Guard and served his country stateside in the 1940's. He was employed as a set-up man at Parker Pen from 1940 to 1980.
His interests were many, including family, church activities, bowling, gardening, and, of course, music. In his younger days he loved dancing. He consistently gave of his time so that others could have a better life. He delivered Meals on Wheels for 30 years. He and Doris enjoyed traveling to all 48 states with their young sons in the 1950's. His garage was a sanctuary where he could build, fix, restore, and create things for himself and others, like rag rugs, toys, Christmas decorations, and a variety of other things.
Surviving are his son Keith (Irma) Huschka and daughter Gloria D. Huschka, both of Janesville. Other survivors are daughter-in-law Gloria J. Huschka, Janesville; brother Dale (Betty) Huschka, Mobile AL; grandchildren Todd Huschka, Newport Beach, CA; Lt. Natalie (Juan) Huschka-Castro, Monona, WI, Lisa (Bob) Harrie, Janesville; Clark (Kelli Laws) Huschka, Janesville, two step-grandchildren, Nick (Gina) Templeton, Monona WI, and Ross Templeton, Canyonlands, Utah; nine great grandchildren, many nieces and nephews.
Bob was predeceased by his siblings LaVina, Gladys, Roy, and LaVerne; his wife Doris, and children Carol and Lloyd.
Funeral services will be at 11 a.m. on Friday October 23, 2015 at MT. CALVARY LUTHERAN CHURCH, 2940 Mineral Point Ave, Janesville, with Rev. Cory Rajek officiating. Burial will be in Milton Lawns Memorial Park, Janesville. Visitation will be at the CHURCH on Friday from 10 a.m. to 11 a.m.
Henke-Clarson Funeral Home is assisting the family. www.henkeclarson.com.
The family would like to send a big "Thank you" to the nursing staffs of Dean/St. Mary's, St. Elizabeth, Our House, and Cedar Crest for their wonderful care of Bob.