Rolland Wayne "Bud" Holliday
January 6, 1923 - April 25, 2012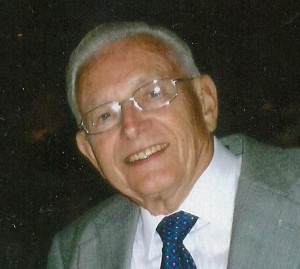 Rolland Wayne "Bud" Holliday, 89, of Milton passed away Wednesday at the Edgerton Care Center. He was born in Milwaukee, WI on January 6, 1923, the son of Howard and Alice (Pfeiffer) Holliday. He served in the U.S. Army Air Corps Engineers Division during World War II and was stationed in the South Pacific for 27 months. He married the love of his life Elaine Meissner on January 26, 1946. They had 66 wonderful years together. Rolland was employed as a manager by Gates Lumber Company for 25 years and prior to retiring worked for Adams Roofing Company. He was an active member of Cargill United Methodist Church where he served on the board of trustees, on the building committee, delivered meals on wheels and had been a Methodist Youth Fellowship leader. He was active in Recovery, was a member of Elks Lodge # 254 and Golden "K" Kiwanis and a life-member of Kienow-Hilt V.F.W. Post # 1621. Rolland enjoyed being a handyman, he designed and built two family homes and was always working on home improvements projects. He also enjoyed traveling, spending winters in Florida and was an avid Packers fan.
Surviving are his beloved wife, Elaine, 3 children, Victoria (Jim) Buehl of Janesville, Mike (Jan) Holliday of Westerville, OH, John (Ilo) Holliday of Meridan, MS, 9 grandchildren, Stephanie (Matt) Andres, Stacey (Matt) Moseley, Brett (Sara) Buehl, Ryan Holliday, Nick (Haylie) Holliday, Jason Holliday, Allyson Holliday, Heather Holliday, David Holliday, 6 great-grandchildren, Madeleine, Morgan and Ella Moseley, Leyton and Kennedy Andres, Alex Holliday, 1 sister, Gwen Sunby of Janesville, 2 step-brothers, Richard Boehm and Cliff Boehm both of CO. He was preceded in death by his parents, a great-granddaughter, Kate Buehl, 2 sisters, Gerry Thornton and Patricia Arnold.
The family extends a special thank you to Edgerton Care Center for the wonderful care given Bud.
Funeral services will be at 10 a.m. Monday, April 30, 2012 at Cargill United Methodist Church, 2000 Wesley Avenue, Janesville. Rev. Forrest Wells will officiate. Entombment with military rites by Kienow-Hilt V.F.W. Post # 1621 will be at Milton Lawns Memorial Park Mausoleum. Visitation will be from 2 to 4 p.m. Sunday, April 29th at Henke-Clarson Funeral Home, 1010 N. Wright Rd., Janesville. In lieu of other expressions of sympathy, memorials may be made to the Edgerton Care Center or Cargill United Methodist Church. www.henkeclarson.com.