Shirley A. Vogel
October 10, 1935 - November 18, 2011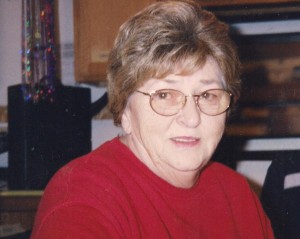 Shirley A. Vogel, 76, of Janesville, WI passed away peacefully at her home surrounded by her loving family on Friday, November 18, 2011. Shirley was born in Boscobel, WI on October 10, 1935, the daughter of Robert and Amy (Waters) Lenzendorf. She grew up in the Eastman, WI area and later resided in Gays Mills. Shirley married Gilbert Enke in 1954 and later married Keith Vogel of Janesville on October 27, 1984. Keith preceded her in death on October 21, 1998. Shirley was formerly employed by Advanced Transformer in Boscobel and after moving to Janesville worked for Prent Corporation for a number of years. She was a member of Cargill United Methodist Church. Shirley loved being with her family and especially enjoyed her grandchildren and great-grandchildren.
Surviving are her children; Donna (Don) Gander of Milton, Doug (Dana) Enke of Gays Mills, Diane (Tim) Briggs of Janesville, Sharon (Jeff) Swiggum of Edgerton, Ron (Amy) Enke of Green Bay , grandchildren, Kim (Todd Kroll) Schlender, Cory Gander, Dustin (Tia) Enke, Dylan Enke, Jordan Briggs, Deanna Briggs, Josh Swiggum, Jesse Swiggum, Michael Enke, Nick Enke and Holden Enke, great-grandchildren, Brook Spors, Paige Schlender, Carson Gander, Pasen Enke, Tenley Enke and Grace Enke. She is further survived by one sister, Helen (Herb) Schneider and one brother, Harold (Jane) Lenzendorf. In addition to her husband, Keith and her parents, Robert and Amy Lenzendorf, Shirley was preceded in death by brothers, Lyle, Earl, Robert, LeRoy, Faye and Lloyd Lenzendorf as well as sisters, Jean Blocklinger, Carol Beckett, Evelyn Reed and Darlene Schlueter.
"SHIRLEY WAS A VERY LOVING MOM AND GRANDMA WHO WILL BE GREATLY MISSED BY US ALL."
Funeral services will be at 11 a.m. Tuesday, November 22,2011 at Cargill United Methodist Church, 2000 Wesley Avenue, Janesville with Rev. Forrest Wells officiating. Burial will be in Milton Lawns Memorial Park. Visitation will be from 4 to 7 p.m. Monday, Nov. 21st at Henke-Clarson Funeral Home, 1010 N. Wright Rd., Janesville and at the Church on Tuesday from 10 to 11 a.m. www.henkeclarson.com.
When I come to the end of my journey, and the sun has set for me,
I want no tears in a gloom-filled room, why cry for a soul set free?
Miss me a little, but not too long. And not with your head hung low.
Remember the laughter that we once shared. Miss me, but let me go.
For this is a journey that we all must take and each must go alone.
It's all a part of the Father's plan, a step on our grand road home.
When you are lonely and sick at heart go to the friends we know.
And bury your sorrows by doing a kindness. Miss me, but let me go.
Love Mom