Shirley J. Elliott
March 2, 1956 - February 22, 2012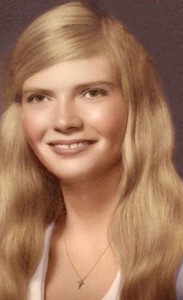 Shirley J. Elliott, 55, of Janesville passed away peacefully with her loving family by her side on Wednesday, February 22, 2012 at Mercy Hospital & Trauma Center following a valiant battle with cancer. Shirley was born in Janesville on March 2, 1956, the daughter of Herman and Myrtle (Hovland) Tess. She graduated from Craig High School in 1974. Shirley married Earnest S. Elliott Jr. on September 24, 1977. She was formerly employed by Campbell's Hardware, Dunkin Donuts, Eagle Foods, SSI, Mulligan's Gas Station, Logli's, Wal-Mart and most recently in the environmental services department at Mercy Hospital where she worked the past several years. Shirley was a member of St. John's Evangelical Lutheran Church, Milton. She enjoyed sports, especially those her children were participating in, camping, bowling, watching the Packers and Badgers and above all spending time with her grandchildren.
Surviving are her husband, Earnest Elliott Jr., 4 children, Samantha Elliott, Jeremy Elliott both of Janesville, Christine (Nick) Covert of Evansville, Andrew (Jena Valley) Elliott of Janesville, 2 grandchildren Trenton Elliott and Owen Covert, 2 special children dear to her heart, Brianna Randell and Dani Hintzman, 2 brothers, Dale (Barbara) Tess of Florida and Gregory Tess of Janesville, numerous nieces and nephews. She was preceded in death by her parents.
Shirley's family wishes to extended a special thank you to Dr. Emily Robinson and staff, Mercy chemo nurses, Mercy Environmental Service Department, Mercy Hospital Lab, Mercy Hospital Clinic West, Mercy Michael Berry staff and the doctors and nurses on the S.C.U. floor at Mercy for the wonderful care given to her and her family.
Funeral services will be at 11 a.m. Monday February 27, 2012 at St. John Evangelical Lutheran Church, 910 East High St., Milton. Rev. Larry Schwanke will officiate. Burial will follow in Oak Hill Cemetery, Janesville. Visitation will be from 2 to 5 p.m. Sunday,
Feb. 26th at Henke-Clarson Funeral Home, 1010 N. Wright Rd., Janesville and at the Church on Monday from 10 to 11 a.m. www.henkeclarson.com.