Suzanne H. Casper
January 16, 1963 - January 20, 2012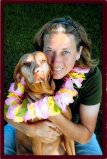 Suzanne Helen Casper, 49, of Janesville passed away January 20,2012 from a brain aneurysm. Suzy, to her family and friends, was born in Janesville on January 16, 1963, the daughter of John and Elaine (Hendrickson) Casper. She graduated from Joseph A. Craig High School in 1981 and later earned a bachelor's degree in sociology from U-W. Whitewater. Suzy was always ready for an adventure. She traveled extensively throughout Europe taking up temporary residence where possible. Greece and Czechoslovakia were two of her favorite countries. More recently, she enjoyed traveling in North America. Suzy was a very special and unique person. She was funny and endlessly creative. She was also an avid reader, spending many hours with her nose in a book. She had several dogs, each with a story as unique as their owner. Suzy volunteered at a variety of animal shelters including a chimpanzee sanctuary and a therapeutic horse ranch. She loved sharing her experiences with family and friends. Suzanne's eight nieces and nephews and three god children all held a very special place in her heart. Spending time with them was a treasured joy. She never hesitated advocating for the children in her life when she saw need.
Suzy's dynamic spirit and genuine passion will be greatly missed by her father, John Casper, her siblings, Abby (William) Curtis, Jill (Melvin) Dashner, Paige (William) Stalcup and John Paul Casper as well as her eight nieces and nephews. She was preceded in death by her mother, Elaine Casper. Memorials may be made to Trinity Episcopal Church or the Rock County Humane Society in Suzanne's name.
Services will be held on Saturday, February 4, 2012 at 11 a.m. at Trinity Episcopal Church, 313 E. Court Street, Janesville with The Rev. Robert Lebron officiating. Private burial will be at a later date in Oak Hill Cemetery. Visitation will be from 4 to 6 p.m. Friday, Feb. 3rd at Henke-Clarson Funeral Home, 1010 N. Wright Rd., Janesville. www.henkeclarson.com.