Sylvia Ann Lyle
May 5, 1930 - May 5, 2015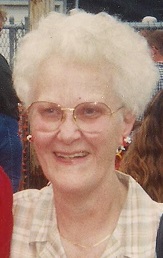 Sylvia Ann Lyle, 85, a long-time Janesville resident died Tuesday, May 5, 2015, her birthday at Evansville Manor where she had resided for the past 4 years. Ann was born May 5, 1930 in Ottawa, IL, the daughter of Anthony and Sylvia (Crompton) Preuss. She grew up in Ottawa where she graduated from high school. Ann married Howard Lyle in 1951. He preceded her in death in 1968. Following his death she went to L.P.N. school and was then employed as a nurse at several area nursing homes including Cedar Crest and the Beloit Health and Rehabilitation Center. She was a member of First Baptist Church, Janesville and a past worthy matron of O.E.S. Chapter # 69.
Surviving are three children, Nancy (Richard) Hasse of Janesville, Donna (Dean) Reece of Meridian, Idaho, David (Jan) Lyle of Oregon, WI, six grandchildren, Rebecca Hasse, Brenda (Ryan) Rupp, Laura Eisenberg, Stacie Reece, Nathan (Carissa) Lyle, Josiah Lyle and two great-grandchildren, Aiden and Alex.
Visitation beginning with an Eastern Star service will be from 10 to 11 a.m. Monday, May 11, 2015 at Henke-Clarson Funeral Home, Janesville. The funeral service will follow at 11 a.m. Monday at the funeral home. Rev. Jerry Amstutz will officiate. Burial will be in Oak Hill Cemetery. The family is being assisted by Henke-Clarson Funeral Home.