Sylvia L. Sperry-Schleifer
March 14, 1924 - October 9, 2014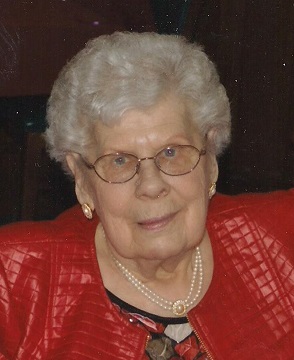 Sylvia L. Sperry-Schleifer, 90 of Janesville WI passed away on October 9, 2014. She was born March 14, 1924 in Reedsburg, WI, the daughter of Paul and Anna (Kuehne) Vogel. She married Robert Sperry on May 1, 1948 in Janesville at St. Paul's Evangelical Lutheran Church. He died June 26, 1983. She married Lyle Schleifer on August 12, 1989. He died August 12, 2012. Sylvia was formerly employed by Parker Pen Company and as a legal secretary. She was a member of St. Paul's Evangelical Lutheran Church and its choir as well as the Senior Center Choristers.
Sylvia is survived by three daughters, Sharmian (Robert) Jessie and their children: Todd (Patricia) Jessie, Brooke Jessie and Laurie (Jeremy) Timm; Marcia (James) Kersten and their children; Mindy (Matt) Riggio and Amber Kersten; Melanie (John) Ross and their children; Brian (Allie) Ross, LeAnn (Dan) Bertagnoli and Karen Woodworth. Also surviving are 19 great-grandchildren, 1 great great-grandson, two brothers, Robert Vogel of Janesville, Russell Vogel of Colorado Springs, CO, one sister, Marilyn (Bill) Anderson of Janesville, a sister-in-law, Amy Vogel and many nieces and nephews. In addition to her two husbands and her parents, she was preceded in death by a brother, Paul Vogel, sister-in-law, Jane Vogel; a grandson, Caleb Bertagnoli and a granddaughter, Sarah Beth Jessie. Funeral services are at 1:30 p.m. Tuesday, October 14, 2014 at St. Paul's Evangelical Lutheran Church, 210 S. Ringold St., Janesville. Pastor Daniel Decker will officiate. Burial will be in Milton Lawns Memorial Park. Visitation is 5 to 7 p.m. Monday at Henke-Clarson Funeral Home, 1010 N. Wright Rd., Janesville and at the Church from 12:30 to 1:30 p.m. Tuesday. Memorials may be made to St. Paul's Church and School or Agrace Hospice.
"A special thank you to the Agrace Hospice Center for the wonderful care they gave to our mother and our family.
God saw her getting tired and a cure was not to be.
So he put his arms around her and whispered come along with me.
With tearful eyes we watched her suffer and saw her fade away.
Although we loved her dearly, we could not make her stay.
A golden heart stopped beating, hardworking hands to rest.
God broke our hearts to prove to us, he only takes the best.