Terrance J. (John) "Terry" Morse
January 20, 1950 - June 13, 2014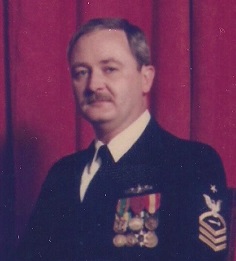 Terrance J. (John) " Terry" Morse, 64, a former Janesville, WI resident died peacefully on June 13, 2014 with family members at his side following a short illness. He was in Ladson, SC, his home since his retirement from the U. S. Navy. He was born in Janesville on January 20, 1950, the son of Harold and Catherine (Sweeney) Morse. He graduated from Joseph A. Craig High School in 1968. Terry was a proud career U. S. Navy veteran. He proudly enlisted in the U.S. Navy in January of 1972 and enjoyed a distinguished career of 22 years having served in both Viet Nam and the Persian Gulf, earning many distinguished awards including attaining the rank of Master Chief Petty Officer. Terry and his sense of humor will be sadly missed by his entire extended family. His great joys were fishing, NASCAR, and rooting for his Packers and Wisconsin Badgers.
Terry is survived by sisters; Patricia (Rick) Willis of Waukesha, WI, Jean (Doug) Marklein of Janesville, brothers; Andy (Dorothy) Morse of Janesville, Bill Morse of Janesville, Dick (Debbie) Morse of Machesney Park, IL, Howard (Laura) Morse of Janesville, nieces; Erica (Mike) Willis-McCormick of Los Angeles, CA, Stephanie Willis (Isaac Kopecky) of Los Angeles, CA, Erin Marklein of Madison, WI, Cait (Steve) Nelson of Janesville, WI, Catherine (Kirk) France of Janesville, WI, Kimberly Foughty of Bluffton, IN, Michelle Sperry of Evansville, WI, nephews; Adam Morse of Janesville, WI, Jeremy (Rachel) Morse of Longview, WA, Donald Schneider of Evansville, WI, great-nieces; Grace France, Cheyenne Foughty, Alexandra Sperry, Autumn Morse Linder, Aubrey Morse, great nephews; Blake France, Tyler Morse-France, Dawson Morse-France, Jackson Foughty, Xavier Morse, aunts; Margaret Mullen and Catherine Sweeney along with numerous cousins. He was preceded in death by his parents, Harold and Catherine and his infant brother, Harold.
The family would like to give special thanks to Terry's friends in South Carolina, especially Chuck and Kate Murray for their sustaining friendship and caring throughout his illness. May Terry rest in peace knowing the many hearts and lives he touched.
A celebration of Terry's life to include military honors will be held on Saturday, July 19, 2014 at Milton Lawns Memorial Park Chapel, 2200 Milton Avenue, Janesville. Visitation will begin at 10 a.m. and the service will follow at 11 a.m. Rev. Jerry Amstutz will officiate. Military honors will be provided by a U. S. Navy honor guard and Kienow-Hilt V.F.W. Post # 1621. As Terry requested, he will be laid to rest in the veteran's resting place at Milton Lawns Memorial Park. Henke-Clarson Funeral Home, Janesville is serving the family.