Thelma Louise Dyke
July 7, 1927 - March 14, 2015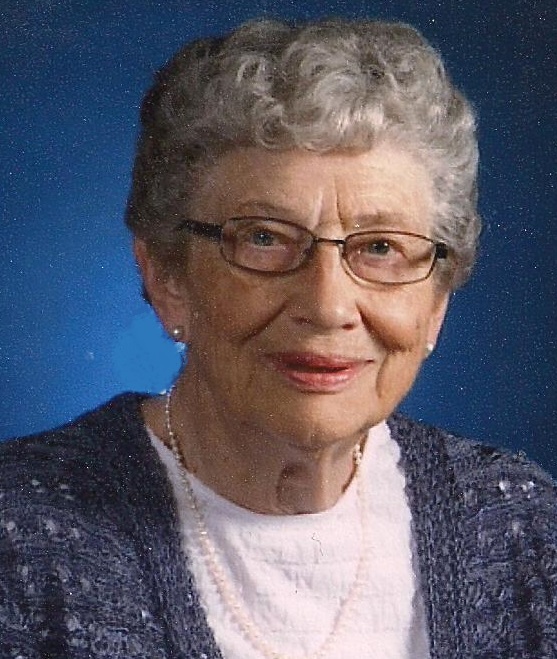 Thelma Louise Dyke (nee Boelkens) died peacefully on Saturday morning, March 14, 2015, at Agrace HospiceCare in Janesville.
Thelma was born July 7, 1927, in Fulton, IL, daughter of John and Jacoba. She graduated from Elgin (IL) High School in 1945.
Thelma met Donald L. Dyke in March 1946, after corresponding by letter with him for more than two years while he served in the U.S. Army. They were married on June 24, 1948 in Fulton, IL. They resided in Champaign, IL; Schenectady, NY; Lynn, MA; Milwaukee, WI; Bloomington, IL; Clearwater, FL; and Owensboro, KY before moving to Janesville in 1964. She and Donald traveled to all 50 states and explored their Dutch roots in Holland.
Thelma was an accomplished homemaker, gardener and seamstress and made custom draperies for many years. She was an active member of Cargill United Methodist Church where she served on many boards and committees. While Thelma focused on her family, church and home she also made many contributions to the community. She was a long-time blood donor, a dedicated volunteer with Meals on Wheels, a volunteer gardener at Rotary Gardens and a long-time participant in the national Women's Health Initiative study. She occupied many bleachers while watching her sons participate in youth sports events and served for a time as treasurer of Janesville Boys Baseball.
Thelma was a devoted and loving wife and mother whose steadfastness and loyalty was acknowledged and treasured by her family. Thelma's faith was ever-present during her lifetime and gave her great comfort during her last weeks.
Thelma is survived by her husband of nearly 67 years, Donald; sons: Don (Anne), Madison; Gary (Cindi), Janesville; and Dave (Deanne), Madison; six grandchildren: Nate (Courtney), Encinitas, CA; Kevin (Sara), Wauwatosa; Eric (Beth), Milwaukee; Lacey (Kevin), Cottage Grove; Sandy, Milwaukee; and Scott, Madison; six great-grandchildren; and brother, John E. (Mary) Boelkens, Mt. Carroll, IL.
She was predeceased by her parents, John and Jacoba; sister, Gladys Boelkens; brother, Wesley Boelkens; and grandson, Brian Dyke.
A memorial service to celebrate Thelma's life will be held on Thursday, March 19 at 11:00 a.m. at Cargill United Methodist Church, preceded by a visitation at 10:00 a.m., also at the church.
The family would like to thank the staff of Mercy Hospital, Cedar Crest Health Center, Agrace HospiceCare, and the Janesville EMS for the exceptional care and comfort they extended to Thelma during her illness, as well as Pastors Forrest Wells and Stu Allen for their support.
In lieu of flowers, the family requests that memorial donations be made to Cargill.
United Methodist Church, Cedar Crest Health Center, Agrace HospiceCare or a charity of your choice. Henke-Clarson Funeral Home is assisting the family.