Thomas Henry Faber
April 16, 1932 - July 17, 2015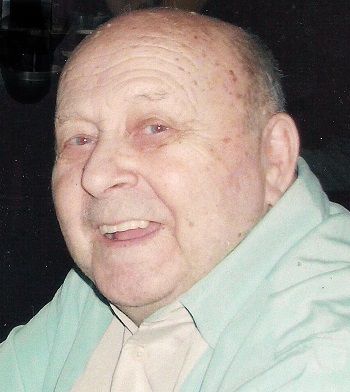 Thomas Henry Faber, of Janesville died Friday, July 17, 2015 at Agrace Center for Hospice & Palliative Care. Tom was born on April 16, 1932 in Milwaukee, WI, the son of Henry Thomas Faber and Elizabeth (Sazama) Faber. He graduated from North Division High School where he participated in track and field and excelled in cross country. Tom served for two years in the U. S. Army. He married Janice M. (Kolpitcke) Faber on April 13, 1974 at Calvary United Methodist Church in Milwaukee. He was employed as a letter carrier by the U. S. Postal Service receiving numerous commendations for a job well done. He was a member of Mt. Zion United Methodist Church. He enjoyed participating in church activities, traveling, stamp collecting, collecting replicas of lighthouses, covered bridges, old automobiles as well as watching old movies, meeting people, trying new restaurants and going to the theater. Tom was a quiet, kind man who never left the house or went to bed without a kiss and expressions of love.
"The family wishes to thank the many doctors and people who have worked with Tom though his lengthy illness."
Surviving are his wife, Janice Faber, children, Michael (Susan) Faber of West Bend, WI, Monica (Mike) Nowak of Kewaskum, WI, Maureen (David) Buslaff of Fond du Lac, WI, grandchildren, Erik (Jennifer) Faber, Angela (Eric) Butler, a great-granddaughter Emma Faber, nieces Amy (John) Dudley, Beverly Stickler, Jessica (Adam) Goff and a nephew, David (Molly) Stickler, brothers-in-law John (Constance) Kolpitcke and Gerald (Nancy) Kolpitcke as well as other family and friends. He was preceded in death by his parents, his first wife, Mary, his sister, Mary Stickler, his brother-in-law, Vernon Stickler, a great nephew, Andrew Dudley, aunts and uncles.
Funeral services will be at 11 a.m. Wednesday, July 22, 2015 at Mt. Zion United Methodist Church. Rev. Carlos Careaga will officiate. Entombment will be in Milton Lawns Mausoleum. Visitation will be at Mt. Zion United Methodist Church on Wednesday from 10 to 11 a.m. Memorials may be made in Tom's name to Mt. Zion United Methodist Church, 2130 Mt. Zion Avenue, Janesville, WI 53545 or Agrace HospiceCare, 2901 N. Wright Rd., Janesville, WI 53546. The Faber family is being assisted by Henke-Clarson Funeral Home.