Vera Grace Muenchow (Mennecke)
December 18, 1914 - September 5, 2017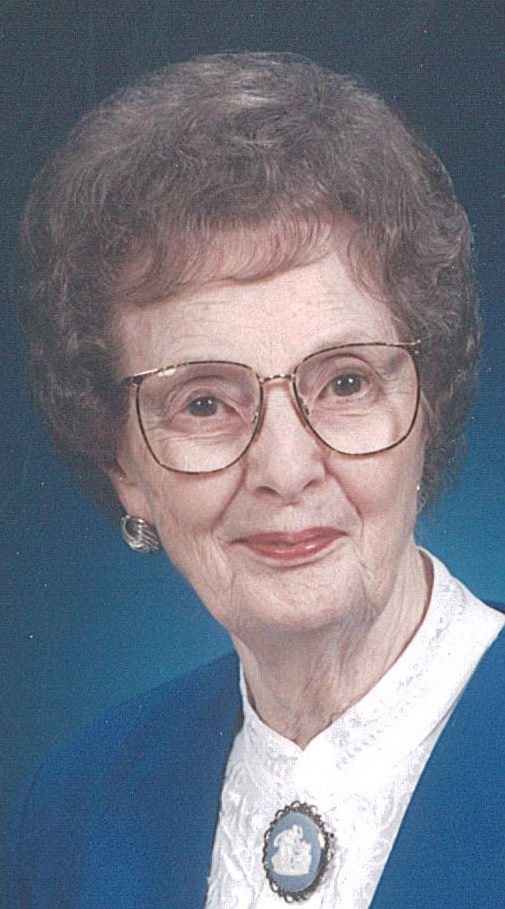 Vera Grace Muenchow (Mennecke), age 102, of Janesville died Tuesday, September 5, 2017 at St. Elizabeth Home. She was born December 18, 1914 in Portage, WI, the daughter of William and Lottie (Harris) Mennecke. She graduated from Portage High School in 1933 and from Mercy Hospital School of Nursing in 1936. After several years of private duty nursing, she joined the Mercy Hospital staff, the last 25 years as Head Nurse in the Orthopedic Department. She retired in 1976. Vera married Leslie B. Muenchow on September 3, 1938 at St. Paul's Lutheran Church. She was a member of St. Paul's Evangelical Lutheran Church, where she was active in the Ladies Aid, Altar Guild and Bible study. She was active in the AARP and the Senior Bowling League.
Vera is survived by her children, Sandra (Gary) Duller and Gerald (Virginia) Muenchow, her grandchildren, Laurie and Leighann Duller, Jennifer (Peter) Madsen, Joel (Nicole) Muenchow and Jason Muenchow, her great-grandchildren: Jake, Katie, Peter, Aaron, Benjamin, Matthew, Joseph, Kristen, Elizabeth, Jack, Michael, Kyle, Nicole, Taylor, Lacy, Olivia and Samantha. Vera also has ten great-great grandchildren., as well as many nieces and nephews including Jeffrey (Sonia) Elser. She was preceded in death by her husband, Leslie Muenchow on July 2, 1995. Her parents, her beloved step-mother, Meta Mennecke, her brothers, Norman and Donald Mennecke and her sister Marian Elser also preceded her in death.
Vera's family wishes to express their heartfelt thanks to Dr. David Murdy, the Sisters of Charity and the staff of St. Elizabeth Home for their loving care of our mother and grandmother.
Funeral services will be at 1:00 p.m. Monday, September 11, 2017 at ST. PAUL'S EVANGELICAL LUTHERAN CHURCH. Rev. Daniel Decker will officiate. Visitation will be on Monday from 12 Noon until 1:00 p.m. at ST. PAUL'S EVANGELICAL LUTHERAN CHURCH. Burial will be in Oak Hill Cemetery. The family is being assisted by Henke-Clarson Funeral Home.