Verne Edward Vollrath
October 14, 1926 - October 31, 2015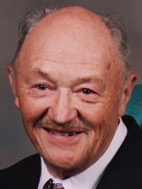 Verne Edward Vollrath, 89, Janesville died on October 31st, 2015 at St. Mary's Hospital in Janesville, WI. Born on October 14, 1926, in Greenwood, WI, he was the son of the late Henry and Paula Verne Edward Vollrath, 89, died on October 31st, 2015 at St. Mary's Hospital in Janesville, WI. (Yaniga) Vollrath. Growing up in a German-speaking household, Verne learned English in the first grade and graduated from Greenwood High School in 1944. He moved to Janesville in 1946 to work at Fisher Body, where he began a 40-year career in the Material Department. Verne served in the U.S. Army from 1950 until 1952. He married Laverne I. Horn in Greenwood on April 27,1951. In retirement, Verne and Laverne greatly enjoyed travel, touring all 50 states and six continents. Annual family reunions throughout the U.S. and Canada were always special occasions. Verne and Laverne shared a passion for visiting flea markets and antique shops in pursuit of new treasures for their many collections. Verne especially enjoyed working at area auctions. He served in leadership positions with the First Congregational United Church of Christ (UCC), United Way and the Rock County Historical Society, and volunteered with such groups as ECHO and the Wilson School breakfast club.
Verne is survived by his son David (Gwendolyn Mettetal) Vollrath, Mishawaka, IN; son Dennis (Judy) Vollrath, Seattle, WA; son Douglas (Kathan) Vollrath, Menlo Park, CA; grandchildren Alison, Andrea, Tessa, Matthew and Joanna; a brother, Dale (Dotty) Vollrath, of Green Bay, WI; and several nieces and nephews. He was preceded in death by his wife of 62 years, Laverne, and brother Larry (Andrea). The family would like to thank the Cedar Crest staff for their care and compassion, and also Shelby, Millie, Jerry, and Verne's other loving friends for their support and kindness.
Funeral services will be held Saturday, November 14th, 11:00 AM at the First Congregational Church in Janesville, WI, the Reverend Tanya Sadagopan officiating. Visitation will start at 10 AM. Graveside service and interment will be held on Sunday, November 15th, 1 PM in Greenwood, WI. The family is being assisted by Henke-Clarson Funeral Home, Janesville and Cuddie Funeral Home, Greenwood.
In lieu of flowers, the family requests that contributions be made to the Memorial Fund of the First Congregational Church UCC or to the Cedar Crest Christmas Fund.