Victor D. Little
December 8, 1915 - January 14, 2013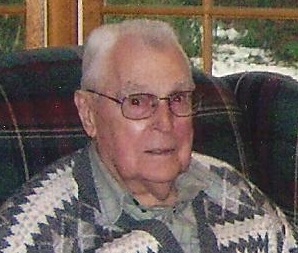 Victor D. Little, 97, of Janesville passed away Monday, January 14, 2013 at Cedar Crest Health Center. He was born on December 8, 1915 in Harmony Township, Rock County, the son of John and Ella (Gentle) Little. He graduated from Janesville High School and married Nevelyn J. Davis on January 26, 1937 in Fort Atkinson. She preceded him in death on April 5, 2008. Victor farmed in Harmony Township most of his life. He also was a Rural Mutual Insurance representative. He served as clerk of the Harmony town board for many years. Vic was a member of First Congregational Church UCC and the Janesville Noon Rotary Club. He was very involved with Rotary Gardens projects thru the years and had been active in 5-H. Vic enjoyed traveling with Nevelyn, and was especially fond of the trip they took to Australia.
Surviving are one daughter, Judith Arndt of Wilton, WI, 3 grandchildren, David (Lori) Arndt, Cathy (John) Guthu, Terri (Jim) Wuensch, 4 great-grandchildren, Jarred and Jordan Wunesch, Jonah and Rose Arndt, nieces and nephews. In addition to his wife, and parents, Vic is preceded in death by a daughter, Janet Little, his son-in-law, Carl Arndt, a brother, Norman Little and a sister, Fay Hill.
Funeral services will be at 11 a.m. Friday, January 18, 2013 at Henke-Clarson Funeral Home, 1010 N. Wright Rd., Janesville. Rev. Wes Bixby will officiate. Burial will be in Oak Hill Cemetery. Visitation will be from 10 to 11 a.m. Friday at Henke-Clarson Funeral Home.