Whitney S. Snyder
April 2, 1913 - October 11, 2007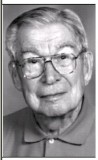 Janesville—With deep sadness we mourn the passing of Whitney S. Snyder, beloved husband, father, grandfather, great-grandfather, and friend. He died on Oct. 11, 2007, at Cedar Crest Residence.
The son of Harvey H. Snyder and Jane Archer Snyder, he was born on April 2, 1913, in Massillon, OH, and graduated from Washington High School there in 1931. He apprenticed in the metallurgical laboratory at Timken Roller Bearing Company in Canton, OH, where he learned much about steel and alloys. He married Jean L. Dauphin on Dec. 16, 1936, in Akron, OH. In 1941 he accepted employment in the metallurgy department at the Nash-Kelvinator automobile plant in Kenosha, WI. Shortly after arriving there, the 1942 model was halted and Whitney was instrumental in changing over to the production of engines for the Army Air Force troop carriers. After several years there he became Chief Metallurgist for American Motors. He was an active participant in metallurgical societies and Kenosha community activities, including Kenosha Symphony League and Band Boosters. At retirement he devoted much time to restoring antique motorcycles. After Jean's death, he married Rosann M. Tracy of Kenosha in 1974. They spent most of their retirement years in Salt Lake City, UT. Whitney became involved in a new business called Mooney Controls, a company that produced gas pressure valves. Upon Rosann's death in 2001, he moved to Janesville, WI. Some of his best times were riding one of his motorcycles in the beautiful mountains of Utah.
He will be missed by his son, Glen Snyder of Milwaukee; daughters, Sylvia (Robert) Nelson of Greenfield and Jane (Edward) Stamm of Janesville; grandchildren: Valerie (Greg) Bates, April (Jay) Scharfenberg, Rebecca Stamm, Zachary Stamm, and Erin Stamm; and 2 great-granddaughters, Analisa and Isabela.
A memorial service will be held at CEDAR CREST CHAPEL in Janesville on Saturday, Oct. 13, 2007, at 2 p.m.